M – Myopia: Nearsightedness. Condition determined through eye examination, in which a patient's distance vision is blurred.
O – Optometrist: A vision doctor specializing in the functioning of the visual system, vision problems, treating vision conditions with spectacles, contact lenses, low vision aids and vision therapy, and prescribing medications for certain eye diseases.
P – Presbyopia: A condition found through eye examination that generally becomes significant around the age of 45 as a result of the loss of elasticity of the crystalline lens. Characterized by difficulty reading fine print, and thus a need for bifocals.
R – Refractive Error: Inability of the eye to properly focus (refract) light on the retina casuing a blurred image. Such an error can be fixed with eyeglasses or premium contact lenses.
S – Slit Lamp – A special microscope used by Optometrists to examine the internal parts of the eye including the cornea, lens, fluids, and membranes.
T – Tonometry: The measurement of the intraocular pressure. (The infamous air puff test performed before an eye examination.)
U – UV Coat: This protective layer is inserted into lenses to protect the eyes from harmful Ultra Violet rays from the sun.
V – Visual Acuity: Sharpness of vision produced by the eye.
W – Wall Eyes: Also known as "exotropia." A condition characterized by misalignment of the eyes in which one eye deviates outward while the other fixates normally.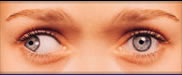 Have any more questions regarding vision terms? Feel free to ask Dr. Tavel: www.drtavel.com/eyecare/ask_dr_tavel.php